PLATFORM
Availability for:
NinjaTrader 8 platform: AVAILABLE NOW
OVERVIEW – Bitcoin Kill Zones for NinjaTrader 8
Kill zones are often liquidity events that cause a lot of activity in the market. This activity often happens near significant technical levels and often persists until the next Kill Zone is approached/entered.
Bitcoin today has four main Kill Zones, and each has its own importance/significance.
1. The Asian Kill Zone (00:00-04:00 UTC) is considered the "institutional" zone and represents both the launch pad for new trends and also a reloading area from the post-American session.
As this Kill Zone is pretty wide, there are two inner zones to which a trader should pay special attention, which is the Tokyo Open(02:00-03:00 UTC) and Beijing Open (02:20-03:20 UTC).
2. The London Kill Zone (07:00-09:00 UTC) is considered the center of the financial universe for more than 500 years and often sees the most significant trend establishment activity through any given trading day.
3. The New York Kill Zone (13:30-15:30 UTC) is in the United States and often comes with a big injection of liquidity. Because it comes relatively late in the globe's trading day, this Kill Zone often sees violent price swings within its first hour.
4. Sydney Open (21:00-22:00 UTC) is the Australian Open and is often a good indicator of global market sentiment.
ATTENTION: Other markets might have different Kill Zones, and must be configured according to their conditions. Research the kill zones of the market you're going to trade before risking your capital.
As these zones are based on the trading activity of the markets around the world, their time must be adjusted accordingly to their time zones, taking Daylight Savings Time into consideration.
The Bitcoin Kill Zones for NinjaTrader 8 indicator makes your life easy by automatically adjusting them for you, so you don't have to worry either live or when backtesting. The kill zones on your charts and automated strategies will always be at the right time!
Over time, market conditions might change, as we have seen with the rise of the Beijing session influencing the prices more and more in the last few years, and many other historical events impacting where the money is coming from in the world.
If needed, use the volume sums of the Bitcoin Kill Zones to guide your adjustments to the zones.
How to Trade using Bitcoin Kill Zones for NinjaTrader 8?
1. Use the Kill Zones to your advantage by tracking the levels of interest that the big players are watching!
2. Monitor how much volume is being traded in each zone to understand if there is real interest from big players on the levels being traded in each zone.
3. If it is a solid level, look for a price to trade around your level through the Kill Zone. As the zone is a liquidity event, the big players can find enough size to get their big orders filled, thus providing more accurate price patterns. Price patterns that happen during these time periods have higher chances of being accurate, thus providing more profits to you!
4. For more advanced traders, look to take positions on those level hits through the zone but understand higher time frame players often have far deeper pockets than day traders and can endure far more volatility than the little guys.
5. Try to avoid taking positions heading into Kill Zones and look for confirmation of your levels coming out of the event.
You can also combine the Bitcoin Kill Zones for NinjaTrader 8 indicator with the native NinjaTrader 8 alert system to be alerted when one of your chosen Kill Zones begins or ends.
Compatibility Bitcoin Kill Zones for NinjaTrader 8 (IMPORTANT):
Bitcoin Kill Zones for NinjaTrader 8 is COMPATIBLE with ANY instrument, you can configure it your way!
Instruments: CFDs, forex, futures, indices, options, stocks, cryptocurrencies
Interval types: timebased
Chart styles: Candlestick Chart
SCREENSHOTS of Bitcoin Kill Zones for NinjaTrader 8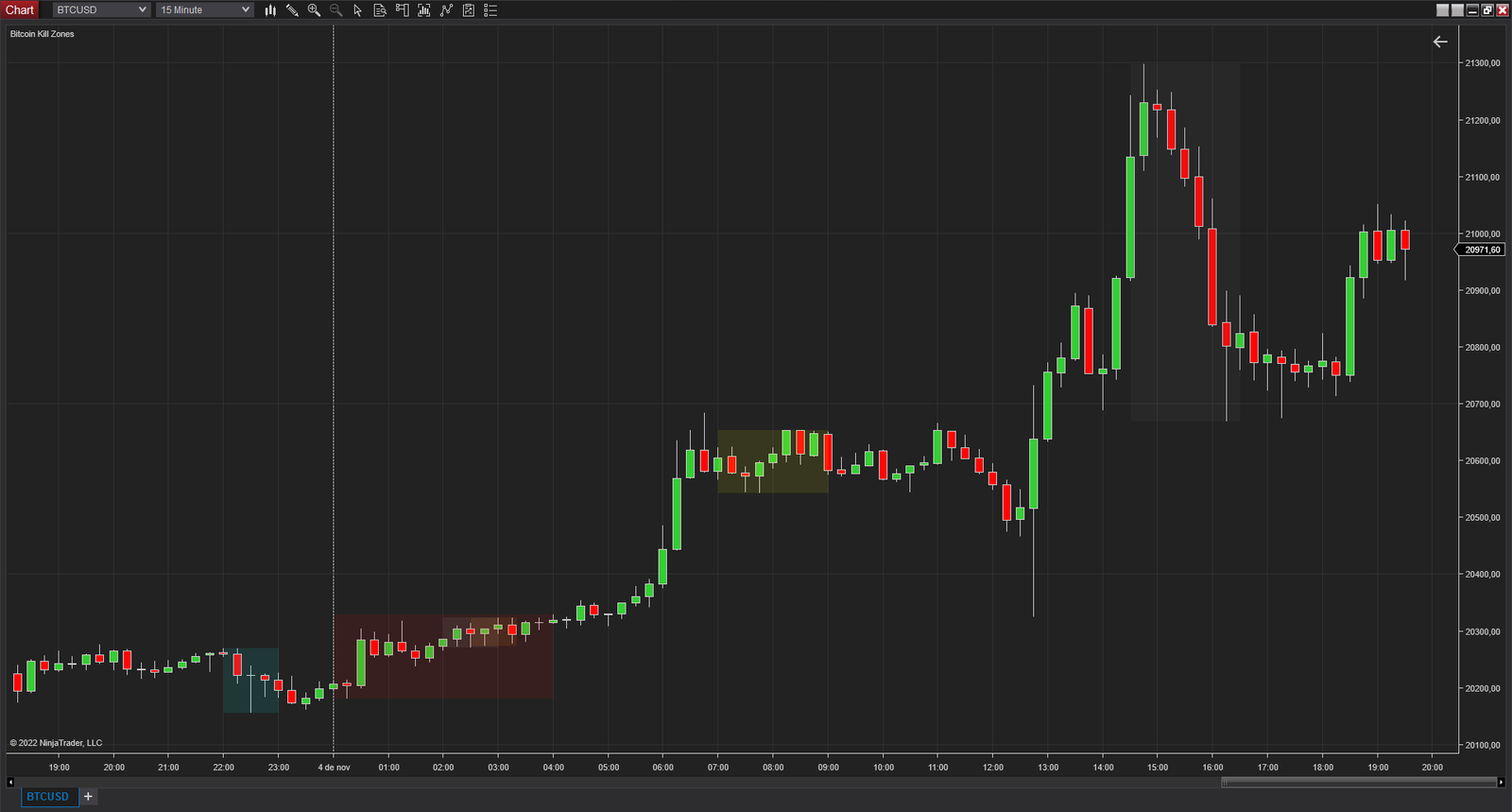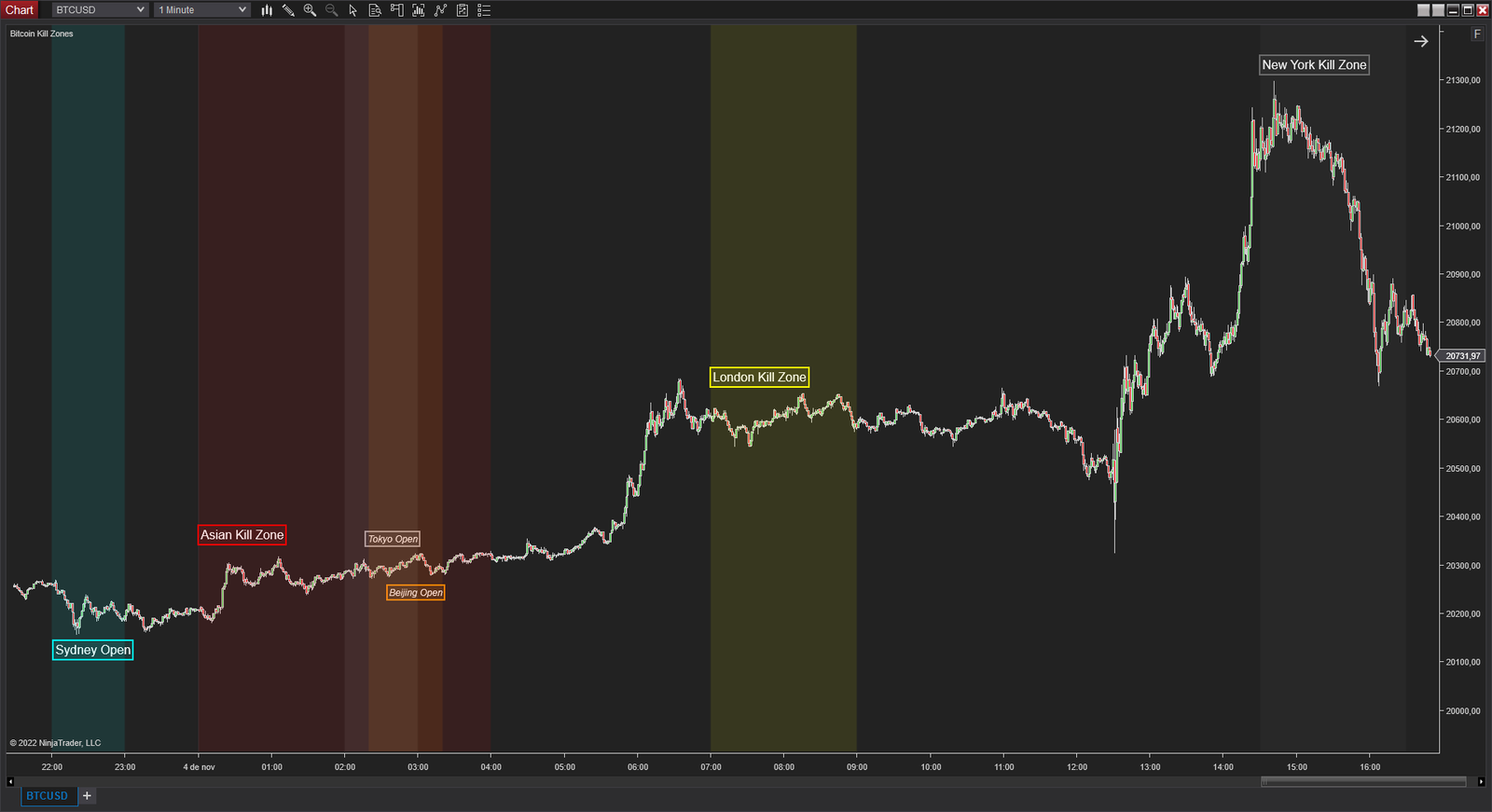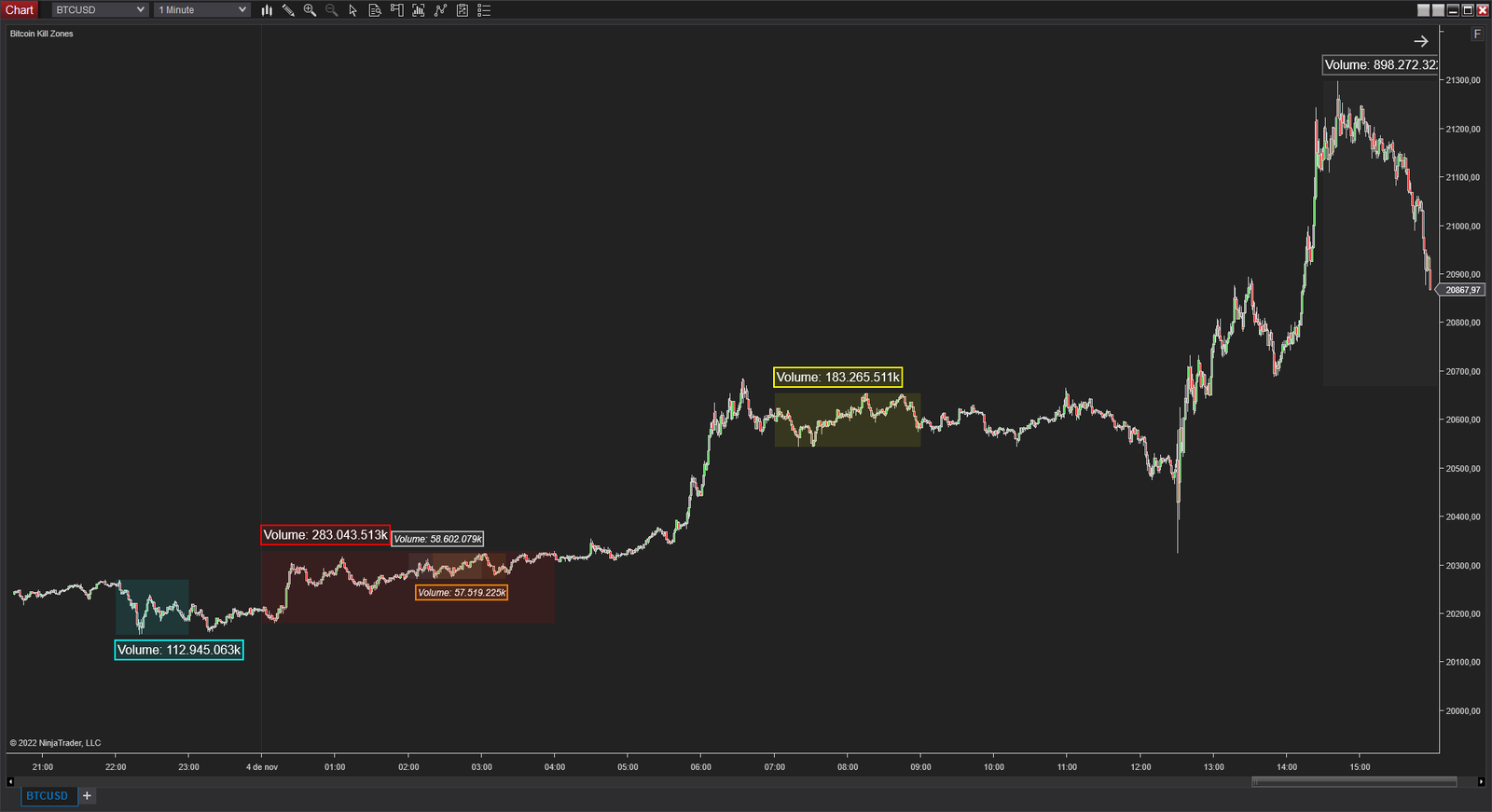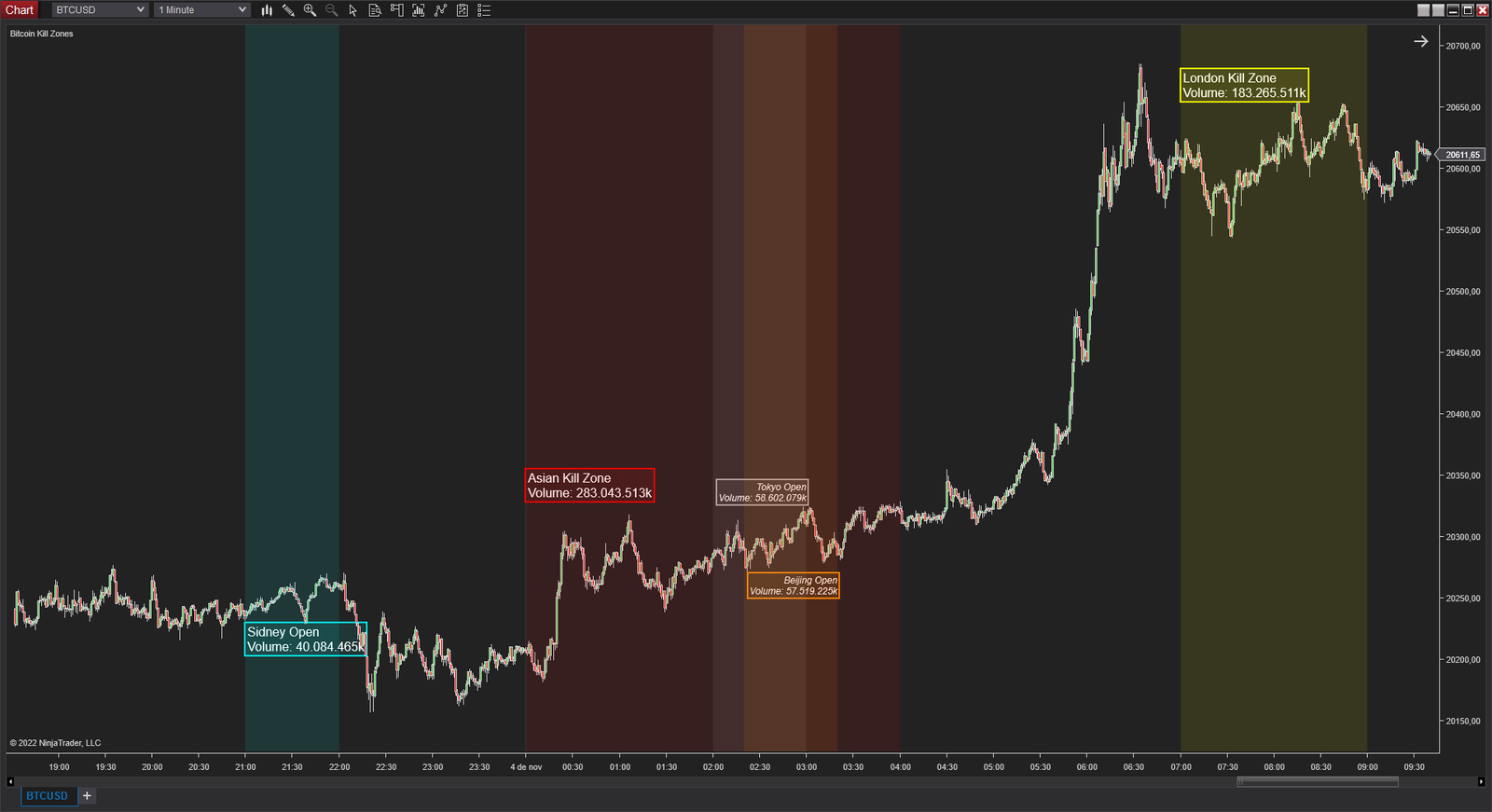 INSTALLATION
Please read Installation Guide for details.
Bitcoin Kill Zones for NinjaTrader 8 SUPPORT
FREE support for life! Feel free to ask us anything, anytime.
UPGRADE
All future updates to Bar Opening Time 1.0 for Ninjatrader 8 are FREE to download after the original purchase.
TERMS
ALL SALES ARE FINAL & NON-REFUNDABLE!
Upon purchasing this indicator, you agree to be bound by Terms of Service.